The information detailed in our Climate Ambition has been superseded by our Concrete Future 2050 Roadmap for Net Zero Concrete which outlines how we will reach net zero concrete. You can find our more

here

.
Our Climate Ambition is our member companies' commitment to drive down the CO2 footprint of their operations and products, and aspire to deliver society with carbon neutral concrete by 2050.


We will work across the built environment value chain to deliver this aspiration in a circular economy, whole life context.

Read this page in Spanish, Chinese.
Read our Climate Ambition Statement in full below:
GCCA_ClimateAmbitionStatement_English_Screen_AW

Download our Climate Ambition Statement here, or printable version here.
"The 2050 Climate Ambition represents our industry's commitment to further reducing emissions and ensuring that the vital product we provide can be delivered on a carbon neutral basis by 2050. There is a significant challenge involved in doing so and achieving alignment across our industry on a sustainable way forward is an important first step. We cannot however succeed alone and in launching our ambition statement we are also highlighting the need for our industry to work collaboratively with other stakeholders in support of our ambition for a more sustainable future."

Albert Manifold, GCCA President and Chief Executive of CRH plc
Concrete's role in the modern world
The world's population is set to grow to almost 10bn people by 2050, 68% of which will live in urban areas. These increases will drive a critical demand for infrastructure over the coming decades – from clean water, effective sanitation, safe dwellings and vital transport networks.
At the same time there is a growing need for resilient construction to protect our cities and natural environment from a changing climate.
As the world's most used man-made product, concrete is vital to meeting those challenges. Its inherent properties mean it will play a key role in sustainable development:
Its safety qualities make it fire, weather and flood resilient.
It provides thermal mass in buildings and rigidity in road construction, both of which reduce demand for energy.
It has essential qualities that enable other sectors, such as the renewable energy industry, to meet their climate targets through the delivery of key infrastructure.
It is a highly versatile building material with infinite mixes and shapes which enables designers and constructors to utilise these qualities in the most material efficient manner.
It can be reused and at end of life and can be fully recycled.
How will we achieve carbon neutral concrete?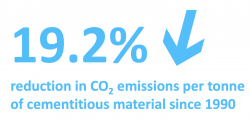 Our Climate Ambition is the first time the global industry has come together as one to announce its commitment to carbon neutral concrete. This will build on the significant reductions that the industry has already achieved, including existing roadmaps and regional collaborative efforts.
Since 1990, we have achieved at 19.2% reduction in CO2 emissions per tonne of cementitious material and delivered more than a nine-fold increase in alternative fuel use replacing conventional fossil fuels.
Reduction of process emissions needs significant technological innovation, both in the manufacturing to reduce their release in the first place, and through carbon capture technology.
In the coming years we can achieve carbon neutral concrete by: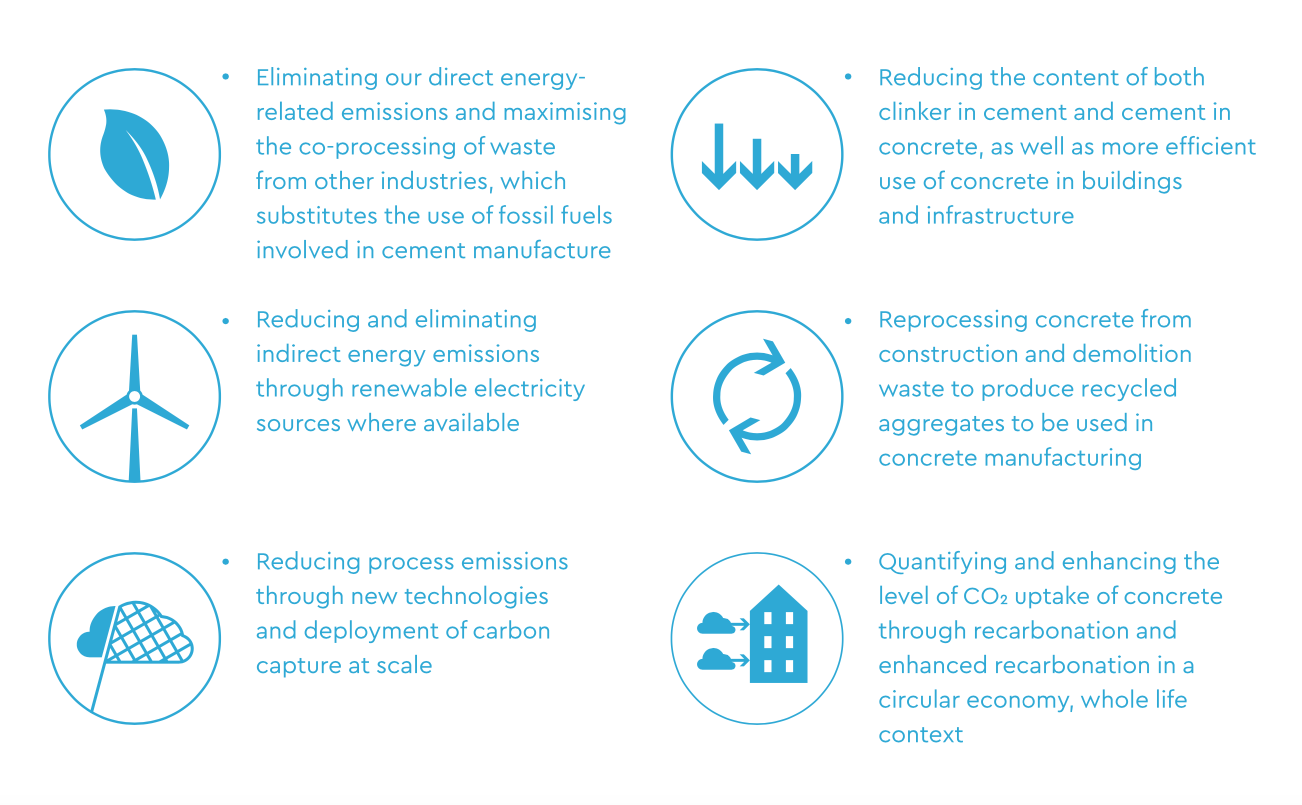 Working in Partnership
To deliver our ambition it is essential that we partner with a range of stakeholders to support our thinking, challenge us to the highest standard and set an achievable roadmap for the industry that meets global expectations and drives the appropriate response in taking climate action.
We call on policymakers, governments, investors, researchers, innovators, customers, end users and financial institutions, to join with us on this critical journey and help to ensure the right resources, tools and policies are in place to deliver on our ambition for carbon neutral concrete.
2050 Roadmap
Our Roadmap will set a long-term vision for the industry and our value chain partners and include a clear plan for linking the technologies, strategies, policies and levers required to achieve this vision.
We will develop and deliver this authoritative roadmap and publish it with a detailed implementation strategy by the end of 2021.
Building on existing comprehensive technology roadmaps produced for the cement sector, our roadmap will set out a clear pathway for concrete. It will take a circular economy approach by taking into account for example:
emissions reduction in cement and concrete production
savings delivered by concrete during its lifetime
reduced demand through promoting design
material and construction efficiencies and improved standards
reuse of whole concrete structures,
design for disassembly and reuse of elements
accounting for the CO2 savings at the end of life including concrete recycling and enhanced recarbonation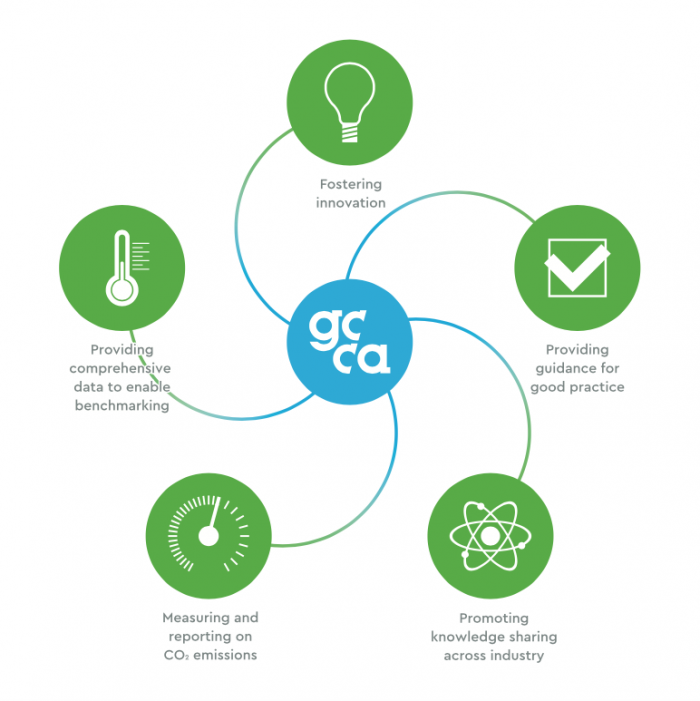 Members can download the GCCA Climate Ambition Statement document and other resources here.
Read the press statement here.
"As we face the challenges for future generations and begin global economic recovery, concrete will be even more critical to building the sustainable world of tomorrow. That's why we are making this commitment today, in order that our crucial industry aligns with global targets, including the Paris Agreement. Concrete has a vital role to play in addressing the need for sustainable communities and prosperity. It is a key ingredient of infrastructure, homes, clean water and community resilience as our climate changes. Crucially, it will also help facilitate the transition to clean/green energy. We believe this journey will be challenging but are fully committed to working together with our members, partners and stakeholders across the industry and supply chain to achieve this ambition."

Dinah McLeod, GCCA Chief Executive
See our supportive quotes from CEOs of our member companies and stakeholders.
Header image: Andreas Gucklhorn, Unsplash