Towards low carbon economy path: Indian Cement Sector, Day 1 – Round Up Blog
Read the Day 2 Round-Up here.
3rd December 2020:
Zero. A number that is vastly significant in the world of mathematics, algebra and almost everything that makes the world run as we know it today, found itself thrown into prominence on Day 1 of the 1st Annual GCCA India E-Conference today.
As a notable ensemble of global industry stakeholder gathered to discuss the future roadmap of the Indian cement and concrete industry, net zero carbon was the recurring theme for the day. GCCA India's first annual e-conference focused on how the Indian Cement Industry can work towards achieving a low carbon economy path and adopt sustainable practices in its business approach. In that, it did deliver.
A Sturdy Opening
Starting off proceedings was the GCCA India Chair and MD and CEO Dalmia Cement (Bharat) Limited, Mr. Mahendra Singhi, with a rousing call to adopt a collaborative mind set as we aim to become net zero carbon compliant by 2050, a United Nations endorsed global target. Mr. Singhi outlined conference objectives to exchange best practices through open collaboration and learn new ideas that will benefit the industry at large.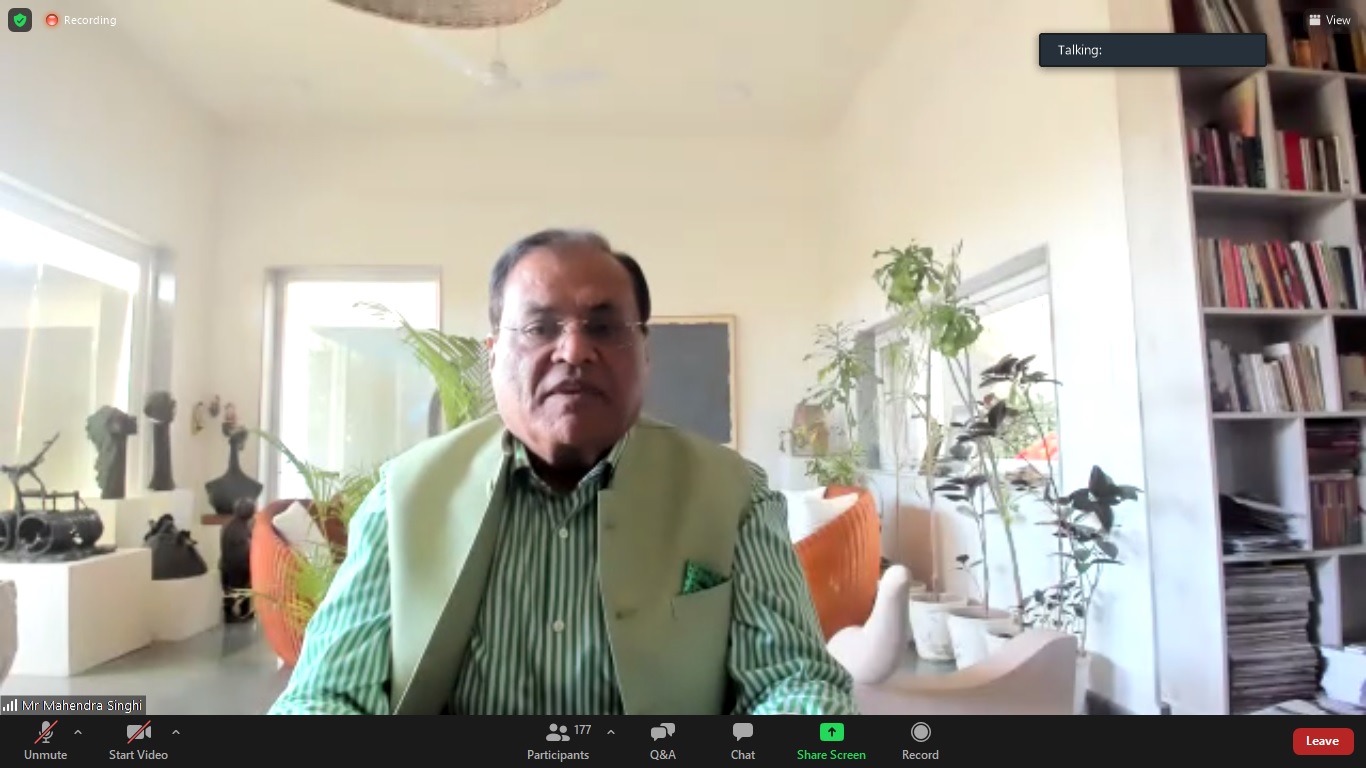 That set the tone perfectly for our Keynote speaker for the day, the highly respected Lord Adair Turner, who currently serves as the Co-Chair for the Energy Transition Commission, a global coalition of leaders from across the energy landscape committed to achieving net-zero emissions by 2050. Lord Turner's keynote expanded some of the key themes under discussion throughout the day, notably how the right deployment of technology is likely to be critical to maximise the decarbonisation of the industry. Highlighting reducing prices of renewable energy infrastructure – particularly PV cells and storage – he called for efforts to accelerate the electrification of the cement industry's vast energy requirements and using batteries and hydrogen as possible balancing agents.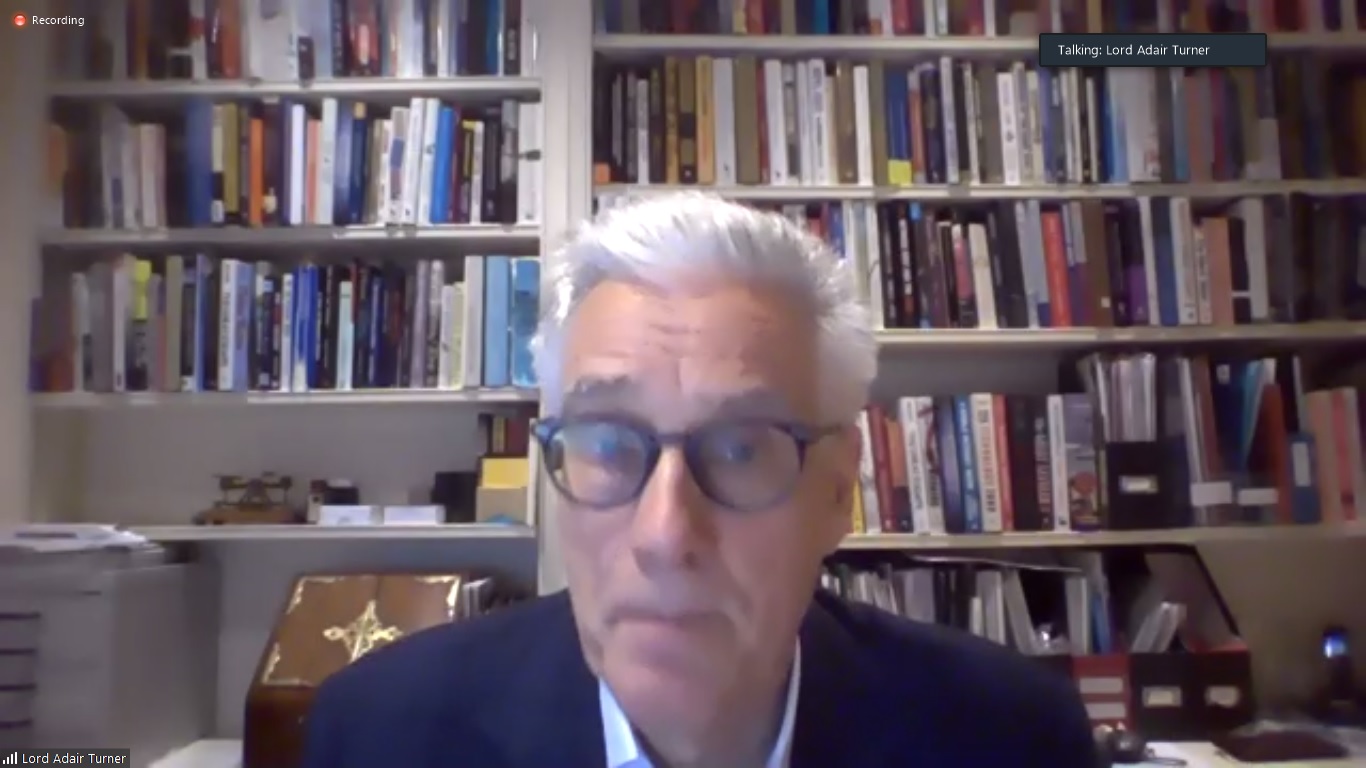 This impactful opening opened the doorway to further sessions packed with incisive observations, real-world success stories, and actionable discussions on Day 1.
Making a Statement
The GCCA Ambition Statement is succinct – "Our Climate Ambition is our member companies' commitment to driving down the CO2 footprint of their operations and products, and aspire to deliver society with carbon-neutral concrete by 2050. We will work across the built environment value chain to deliver this aspiration in a circular economy, whole life context."
Our efforts and future roadmap are guided by our unyielding efforts to make this statement a reality. Dinah McLeod, Chief Executive – GCCA, was at hand to elucidate further on this topic. Since 75% of the UN SDG's are directly dependent on infrastructure, the cement and concrete industry will serve as a key lever to make the SDGs achievable globally. But it is not enough to affect change without sustainability but to do so with an earnest approach to be part of the solution. Ms. Dinah encouraged the audience members to unite efforts with the GCCA to make the carbon neutrality of the industry a reality.
A 6-point agenda on how to achieve carbon-neutral concrete was introduced, which was further detailed by the next set of industry experts.

First up was Ms. Magali Anderson, CSO, LafargeHolcim; one of the global leaders in building materials. The audience was treated to a detailed brief of the company's efforts to build a sustainable future for all. This covered larger and faster adoption of clean energy, building AI-driven plants for tomorrow, and most importantly, improving the scalability of Carbon Capture and Utilisation (CCU) through technology innovation. Ms. Anderson likened the drive behind the 2030 and 2050 targets akin to the space race that put a man on the moon. Only this race will hopefully create a planet that we can all enjoy using for millennia to come.
Ms. Claude Lorea, Executive Cement Director – GCCA, brought perspective on how measuring and improving recarbonation volumes are necessary to understand the true impact of CO2 uptake by building stock. In doing so, she highlighted one of GCCA's mission statements to compel the IPCC to recognise recarbonation and endorse a methodology to calculate every nation's contribution towards recarbonation.
Dr. Andrew Minson, Sustainable Construction and Concrete Director, GCCA rounded up the more technically themed topics by sharing the GCCA roadmap and milestones with detailed insight on how India plays a pivotal role in getting there.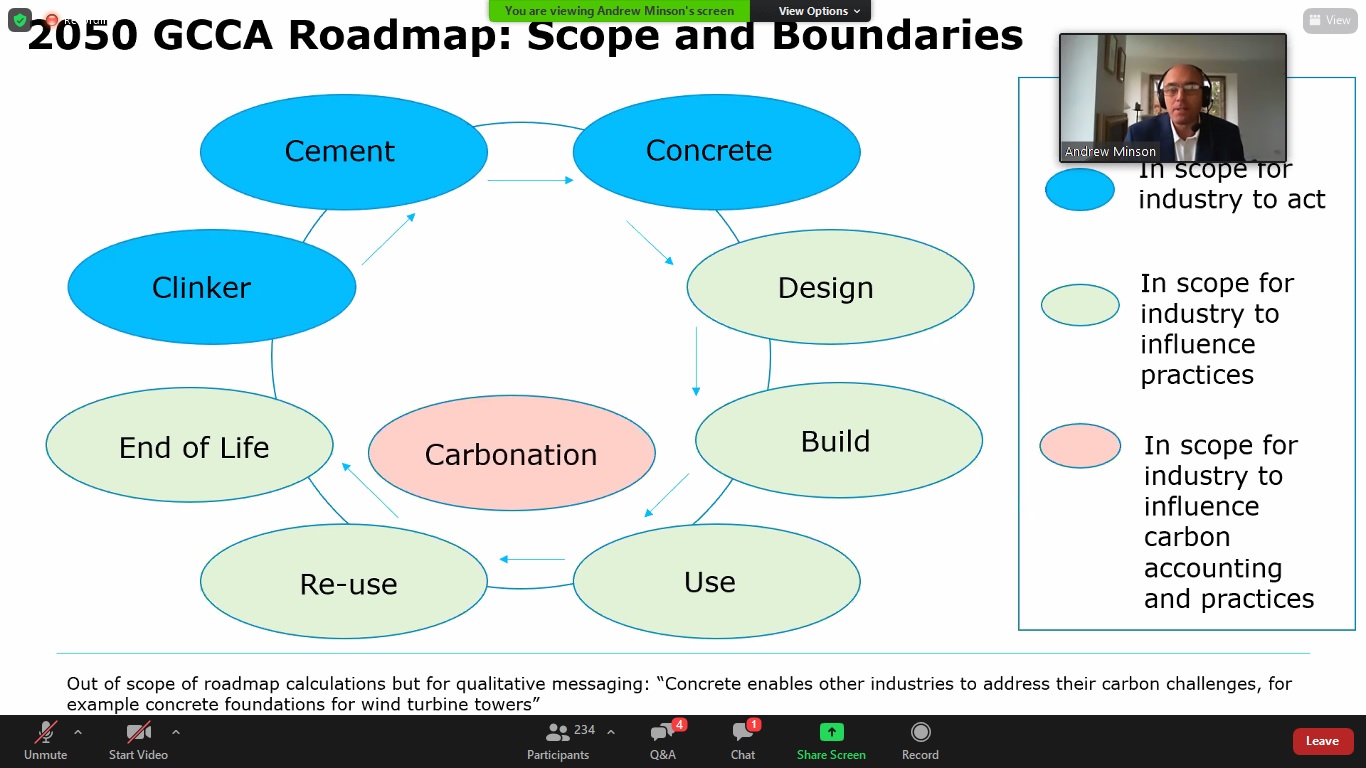 A Panel of Experts
A CEO Panel discussion involving some of India's leading cement companies was the ideal end to a day filled with information and direction for the industry. We had Mr. Mahendra Singhi (MD and CEO, Dalmia Cements (Bharat) Limited), Mr. Jamshed Kapoor (MD, Heidelberg Cement India Limited), and Mr. Rajnish Kapur (Business Head, JK Cement Limited) contributing their expert opinion and ably moderated by Mr. Arvind Bodhankar, (Jt. Executive President & CSO, UltraTech Cement Limited).
All industry leaders spoke to highlight key initiatives by their respective firms to make their operations a lot more energy-efficient, sustainable, and embracing cutting-edge technology. Due importance was paid to the need for robust policy and regulatory ease to make sure that the Indian cement industry continued to play a leadership role for the world to emulate. Cutting edge projects, commitments made by each company to become net-zero compliant, and cultural reinforcement of these targets were highlighted in response to some informed audience questions.
An engaged audience had a long list of discussion points and follow up questions for the speakers, which was channelled ably by Kaustubh Phadke (General Manager – GCCA India). A fitting conclusion to the day came on the back of a hopeful and exciting statement made by one of the panellists – a cleaner and greener cement and concrete industry need not be antithetical to business growth and profits. This can only be achieved by the collaboration of all stakeholders.