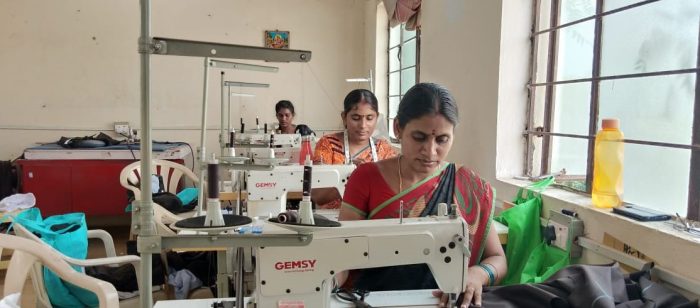 Leveraging on its country-wide geographic presence, through manufacturing units, UltraTech Cement's corporate social responsibility (CSR) initiatives focus on empowering rural women, one Self-Help Group (SHG) a time.
Our Company believes upskilling initiatives need to be backed with both support and sustainability. As part our CSR efforts, UltraTech not only offers up-skilling opportunities to women from rural communities but also provides necessary support to build a sustainable business.
In Khor, Madhya Pradesh, one such women SHG led carpet unit is the ideal example of a story of success and sustainability. Set up more than a decade back, the carpet unit now exclusively exports all its produce to developed countries.
Over the years, several of our units have embraced the SHG model to provide livelihood opportunities to women in rural communities. In 2012, our integrated unit Andhra Pradesh Cement Works (APCW) engaged with local community members to train women in jute bags stitching to enhance their livelihoods. As part of the initiative, a group of 30 women was registered as a Self-help Group (SHG) called Spoorti Jute Works. This project was extended in 2016 to cover uniforms for employees at the unit giving it both scale and sustenance. Over the years, Spoorti's business opportunities has increased as the SHG also caters to demand from other nearby industrial units and is now self-sustained.
A similar model was implemented by Baga Cement Works, our integrated cement unit, in Solan district of Himachal Pradesh. The unit started a Self-Help Group in 2019 to help impart training in stitching apparels. The unit has so far helped catalyse formation of 13 Self Help Groups (SHGs). These SHGs assist women to achieve financial independence and provides skill development training with a focus on local market demand.
UltraTech also leverages on its townships to make a ready market available for products procured from women led SHGs. The CSR team at our integrated cement unit Awarpur Cement Works in Maharashtra has helped put together women SHGs to produce and sell daily household items such as agarbatti, phenyl, spices, cotton bags, face masks and eatables. This team also actively engages with these SHGs to aid sale of their products at the unit township.
Our unit-level efforts also ensure women from rural communities are active participants in India's digital transformation story. Our integrated unit Rawan Cement Works in Chhattisgarh has conceptualised and implemented a Digital Village Project to transform villages with the use of technology. Part of the project, rural youth are engaged as Village Level Entrepreneurs (VLE), which also includes three women who are now earning their livelihood as entrepreneurs.
Overall, UltraTech Cement supports 840 SHGS across India, empowering more than 8000 women economically.