Ensure inclusive and quality education for all and promote lifelong learning.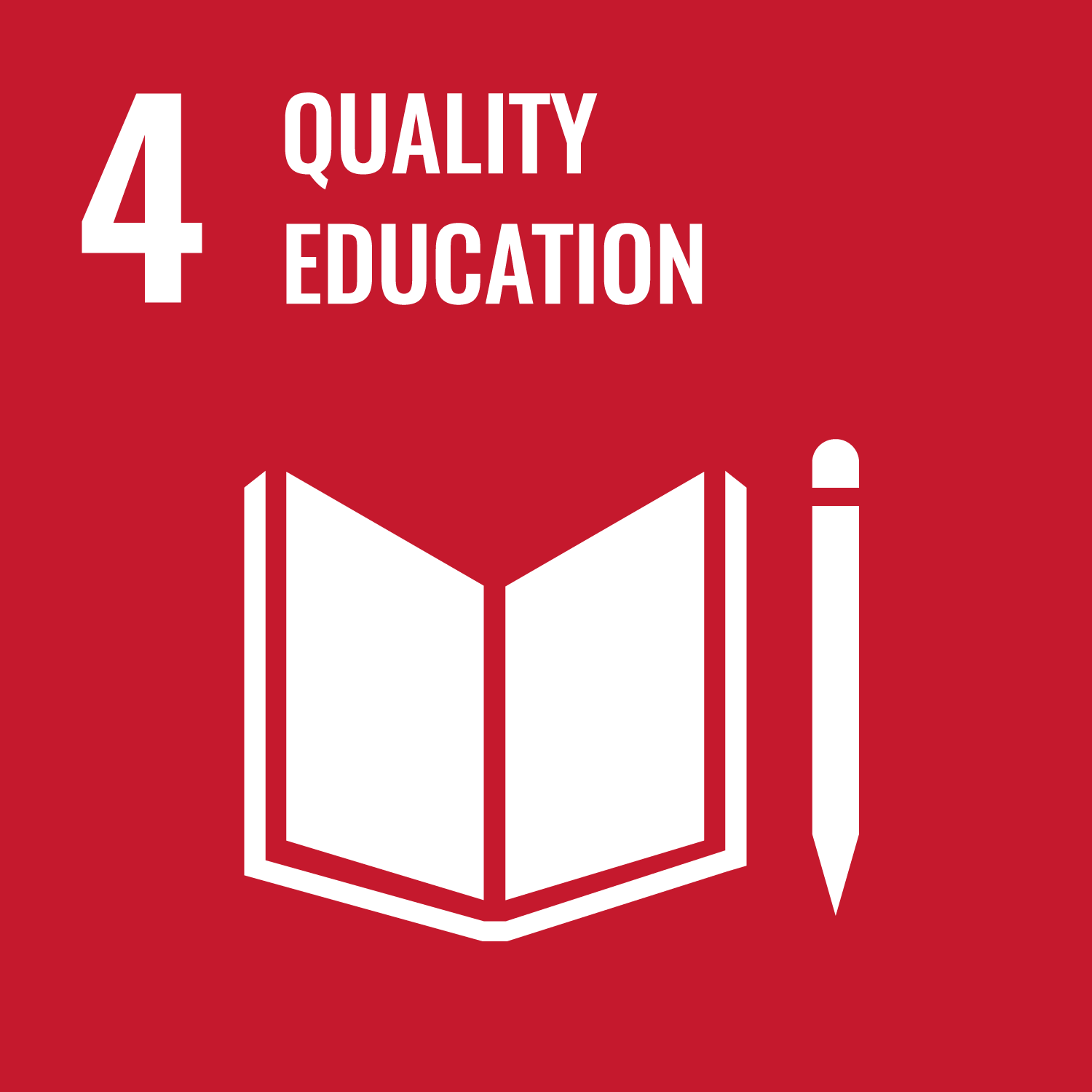 SDG4 aims to ensure all children are able to complete free primary and secondary education, while improving equal and affordable access to vocational training, and pre-primary and higher education.
Education is indispensable for the achievement of sustainable development. A sizeable pool of educated, entrepreneurial, and industrial human resources has long been recognised as a necessary precondition for long-term development and economic success. It is also a crucial basis for creating the necessary opportunities for young people to enter the formal economy, either by finding employment or pursuing entrepreneurship.
If sustainable development goals are to be achieved, it is also vital that people acquire the knowledge and skills needed to promote sustainable development. This comes through education about sustainable lifestyles, human rights, gender equality, peace and non-violence, global citizenship, and cultural diversity and culture's contribution to sustainable development.
How the cement and concrete industry is making a positive difference
There is a huge need to develop educational facilities that are child, disability, and gender sensitive and provide safe and inclusive learning environments (SDG4a), as well as training facilities for teachers and other educational support staff. As a durable, cost-effective and widely-available building material, concrete is the basis for construction of this educational infrastructure and its essential supporting services (energy, water, sanitation and transportation).
The provision of water and energy infrastructure is also important in enabling girls and women to access education and training, as it is often their role to collect water and fuel for drinking and cooking, activities that mean they miss out on schooling.
The cement and concrete industry also needs skilled workers: education and training – particularly in science, technology, engineering, and maths (STEM) subjects – are therefore vital for the development and success of the industry. The challenges of adapting the industry to meet new standards of sustainability and technological change only serve to highlight this need further, particularly in areas where such skills are in short supply. To meet this need, the industry invests, both internally and externally, in workforce education and talent pipeline development programmes.
Providing employees at all levels with equal opportunities for continuing professional development is only a beginning. The industry is also actively reaching out to schools, colleges, and universities to make young people aware of the opportunities available within the industry, while ensuring they have the skills required to take advantage of those opportunities (SDG4.4). Investing in education also opens up the industry to innovation and new models of business.
Case studies
Book launches to inspire Vale youngsters
Supporting Elementary Schools through the STEM mini-grant programme
Knowledge for all – Aggregates Academy
Dangote: Aliko Dangote Foundation, UNECA and GBCHealth Advocate Public-Private Sector Partnership for Better Health in Africa
Titan: "Teach for all": Supporting education in Bulgaria