End hunger, achieve food security and improved nutrition, and promote sustainable agriculture.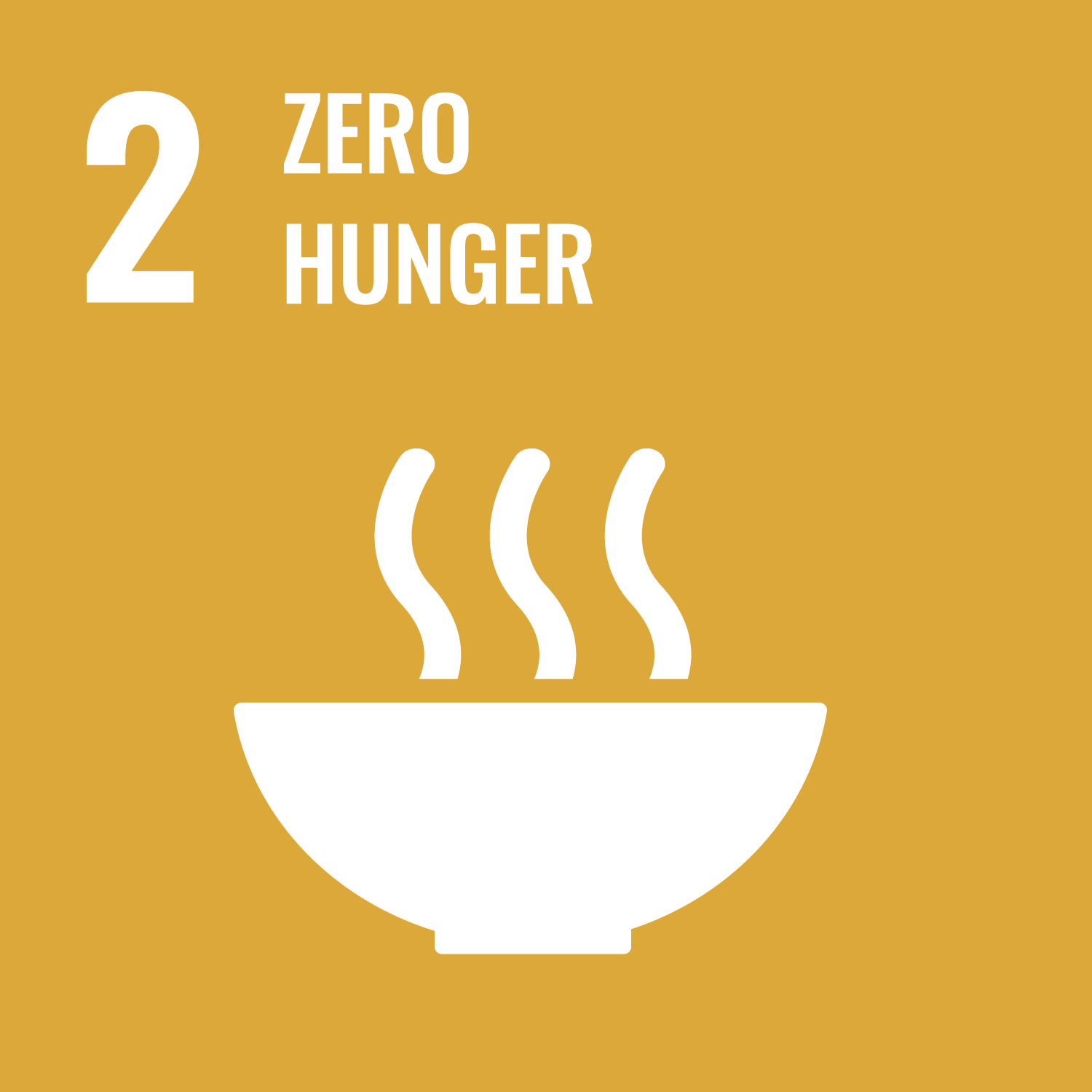 SDG2 aims to ensure all people have access to enough food to end both hunger and malnutrition. This involves promoting resilient and sustainable agriculture, supporting small-scale farming, improving agricultural productivity, and protecting equal access to land, technology, and markets.
After a prolonged period of decline, the number of undernourished people has been rising in recent years, reaching 821 million in 2018, from 784 million in 2015. More than one in five children under five years of age, some 149 million, suffered stunted growth as a result of malnutrition in 2017, while 49 million children under five were affected by wasting.
Agriculture provides the answer to this challenge. In addition to providing food, it is also the world's largest employer and the main source of income for the rural poor, giving it a central role in rural development efforts. Yet it is being significantly impacted by environmental degradation and climate change. Strengthening the resilience, sustainability, and adaptive capacity of agriculture – and particularly small-scale agriculture – is therefore the critical element in ensuring the world can feed itself.
How the cement and concrete industry is making a positive difference
The strength and durability of concrete is key to building the resilient infrastructure needed to improve the productivity, sustainability, and resilience of food production and supply systems (SDG2.3 and SDG2.4), including energy and water infrastructure, and transportation links between the areas of production and consumption. Access to safe water and sanitation also plays a role in reducing rates of child malnutrition and stunting (SDG2.2) by improving the overall quality of a child's health and environment.
Although the manufacture of cement is a potentially disruptive process on local ecosystems, cement companies ensure that such impacts are limited and allay the fears of local communities through strong environmental management programmes and proactive community engagement. For example, the GCCA is committed to supporting the sector in monitoring the consumption of water, as well as increasing the amount of water that is recycled, publishing guidelines for its members for monitoring and reporting water use, as part of the GCCA Sustainability Charter. Other guidelines include those for quarry rehabilitation and biodiversity management and for monitoring and reporting emissions.
When operating in areas with chronic malnutrition, whether rural or urban, cement and concrete companies also bring significant economic benefits through jobs, support for local traders and service providers, taxes, and charitable donations. This helps reduce poverty [link to SDG1] and provide communities with enough to eat (SDG2.1). Cement companies can also boost the income of local farmers through the procurement of residual agricultural biomass as an alternative fuel, and may support employability and entrepreneurship in local communities with training, education, and other services.
Case studies
Lafarge Iraq's CSR projects support to increase agricultural areas and yields
Geocycle secure biomass needs from local farmers
Supporting smallholder farmers with the Hima Coffee Development project
UltraTech: Sustainable Agricultural Practices