Press release | 1 March 2019
GCCA Full Statement on Guardian 'Concrete Week' Series
Concrete is vital for a future sustainable world. We believe it is right to have an open discussion about the role of concrete, the vital material which has built the world we see today. It is appropriate to consider how it can shape a sustainable world for tomorrow and therefore key to recognise the challenges that will need to be overcome to achieve that.
For a complete picture though, it is equally important to understand why concrete has become the world's most used man-made material. It is locally sourced and broadly abundant, resilient, durable, fire safe, and fundamental for infrastructure, clean water and vital structures for the clean energy of tomorrow. It enables modern society to exist as we know it and will continue to do so as we adapt to face the pressing issues of today and the future.
The sector recognises the important challenges in cement and concrete production and have been working hard over many years to find solutions. There are several important innovations already underway and, by collaborating with partners in the built environment, we can make an important contribution to reducing global CO2 emissions. We are fully committed to continuing to take climate action and to move towards a sustainable future.
We are working across the full value chain, including with engineers and architects to maximise its benefits, whilst addressing the essential standards that the world expects. Good design and resilience of buildings and structures are important now, and will continue to be so in the future.
We are fully committed to continuing to take climate action and to move towards a sustainable future.
As key actors in the built environment we believe an open, balanced and constructive approach to discussion and debate is the best way forward to achieve the sustainable world all of us want to build for future generations.
We recognise the challenge
Cement is the essential glue that binds concrete. It is widely agreed, throughout the sector and beyond, that it is imperative to reduce its CO2 footprint.
Benchmarking and the collection of industry data – stimulates action to reduce CO2 and energy use. The cement sector is the only sector to have a voluntary, independently-managed database of CO2 and energy performance information for the global cement industry. Managed by an independent third party (PWC), the database provides an accurate and clear picture of the cement sector's CO2 emissions and the factors that impact those emissions in order to work effectively towards reductions.
Guidelines and Targets – The GCCA gathers and publishes data recording the industry's sustainability commitments, as well as publishing member guidelines which set reporting criteria and targets for its members across a range of sustainability measures, including CO2 emissions.
The sector has worked together with the International Energy Association on a Technology roadmap consistent with limiting the average global temperature increase to 2 degree. This roadmap sets out a key strategy for the cement sector to achieve decoupling of expected cement production growth from related direct CO2 emissions through the use of four levers: improving energy efficiency, switching to alternative fuels (fuels which are less carbon intensive), reducing the clinker content of cement, integrating carbon capture technologies and developing new type of binders. This roadmap sets the pathway for the industry to reduce its emissions by 24% from current levels, despite the increased production by 2050.
We have worked on a roadmap that sets the pathway for the industry to reduce its emissions by 24% from current levels, despite the increased production by 2050.
Share of emissions – Different numbers, mostly between 5% and 8% are used by independent groups when assessing the share of global CO2 emissions from concrete – primarily through cement manufacture. We believe it is important to try and accurately represent the actual figure and work is underway to achieve that. Our initial findings show that cement may be at the lower end of the scale, around 5% of the GHG emissions when land use, land use changes, forestry, other sector process emissions and other GHG are all included. This in no way diminishes the commitment to reduce CO2 emissions further.
Responding to the challenge – Work and innovation underway

The industry is committed and already responding to the sustainability challenge. There are many research projects ongoing and much innovation is in the pipeline. A key priority for the sector and the GCCA is to foster and encourage greater innovation.
Manufacture

Health & Safety – Ensuring healthy and safe working conditions for employees and contractors is the first priority for the cement and concrete industry and its broader value chain. The GCCA members companies recognise that attention should be paid to this area across the whole industry and as such are committed to playing full part of that process. We aim at promoting the sharing of good health and safety practices and ensure monitoring and reporting of performance.
Energy efficiency and fuels switch – are important levers for the cement industry. It includes both energy and electric efficiency. Modern cement plants operate today at or close to the theoretical limits of efficiency.
Responsible sourcing – is current practice in many countries including Europe, using virgin materials or waste products from other industries. This ensures stewardship of the environment and respect for employees and neighbours. Best practice is being rolled out globally.
Biodiversity – Sites of extraction for raw materials for cement and concrete are returned to society restored and are often enhanced. best practise is being encouraged globally.
Novel Cement and Concrete Mix Design – The versatility in constituents and mix lead to endless innovation. Concrete and cement technology is a profession in itself because of the development of:
cementitious products that can replace up to 30,50 or even, in some cases 80% of Portland cement clinker;
admixtures that enhance the wet and/or hardened properties of concrete.
the benefit in construction of predicting and understanding the strength gain.
novel cements
Innovations include light transmitting concrete, ultra-high strength concrete, foamed concrete, self-compacting concrete, lower carbon concrete. The list is almost endless.
Concrete Products – There has been significant innovation in factory made concrete products that minimise material use, increase speed of construction, maximise durability, and provide clients with appropriate solutions.
Design and Use
Resource Efficiency – Engineers and architects have implemented numerous innovations in how they use concrete, including: resource efficiency (e.g. post tensioning), utilising concrete structure for additional functions (e.g. avoiding additional finishes), renewable energy strategies (e.g. energy building foundation piles) and passive solar design reducing/removing the need for air conditioning by use of concrete thermal mass. Future innovation may well be the use of buildings as energy storage units to enable a renewable energy grid to function despite not matching demand-side requirements.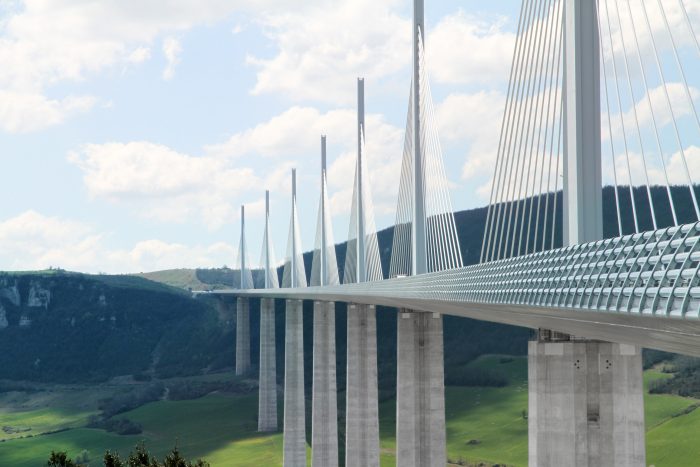 The benefits of concrete and the requirements of society

For society to have healthy, safe environments for living and working, and for society to function even at a basic level we rely on a built environment that is often taken for granted. In developed economies we are fortunate to have a sufficient (even ample) supply of clean water due to important infrastructure such as dams, reservoirs, treatment centres and distribution networks waste water systems that protect from waterborne diseases; energy generation and distribution; safe and functioning rail, road and shipping infrastructure; protection from flooding etc. We live, work and are educated in fire resistant buildings that do not have dirt floors and have foundations that provide stability and safety. All of this is only possible because concrete has all the right inherent properties and is formed from local globally available raw materials in sufficient quantities to meet the basic demands of people.
Concrete has all the right inherent properties and is formed from local globally available raw materials in sufficient quantities to meet the basic demands of people.
Over and above these uses of concrete, there are demands for the material because it is the optimum choice. It is chosen for education facilities and social housing because it is robust to wear and tear, resilient to water (think long term maintenance of rainwater drainage and pipes, floods in school bathrooms and laboratories,) and of course fire resistant. It is chosen for offices, hospitals and other public buildings because it is versatile meaning designers can make the most of the client's resources in meeting their needs. It is chosen for road and rail infrastructure because it provides low maintenance, cost-effective solutions. Increasingly it is chosen because it reduces whole life carbon impacts of a project. Rigid concrete roads reduce the vehicle emissions compared with flexible asphalt roads. Concrete buildings reduce energy demand for heating and cooling: demands that are multiples of the energy required for original construction.
In summary
As Professor Chris Cheeseman, Materials Resources Engineering at Imperial College London, recently said in a Guardian 'concrete week' article: "Not only are the raw materials for concrete available cheaply and in abundance in most places around the globe, but the stuff itself has marvellous properties…"
It is a material that will answer the needs of a growing and increasingly urban population that is set to exceed 9 billion people by 2050. It has innate and unmatchable benefits: locally sourced, durable, resilient, fire safe, does not rot and has no VOCs.
We need to recognise its benefits, better use it, work hard to reduce its CO2 footprint and work together to ensure it can build a sustainable world for the future.