Innovandi – the Global Cement and Concrete Research Network, was formed by the GCCA to accelerate global collaboration on cement and concrete innovation, an important step in taking climate action. Innovandi is a large industry led consortium that ties together the cement and concrete industry with scientific institutions to drive and support global innovation with actionable research.
This is a truly global endeavour – 30 companies from across the cement and concrete industry, including cement and concrete manufacturers, admixture specialists, equipment and technology suppliers are now Innovandi Partners, along with 40 scientific institutions.
The network connects industry with scientific institutions to drive innovation and facilitates a global dialogue on key research. It builds on the industry's long-held commitment to ensuring a more sustainable future.
Innovandi was launched at the GCCA Annual Conference in Singapore in October 2019, and the Innovandi Kick-Off Week was held online in June 2020. Work gathered pace in September and October 2020, advancing via online sessions to showcase the work of academic partners, as well as Innovandi Autumn Week where calls for Industry funded Core Projects were launched.
An annual Innovandi global conference to promote collaboration on innovation and research in the sector will be established.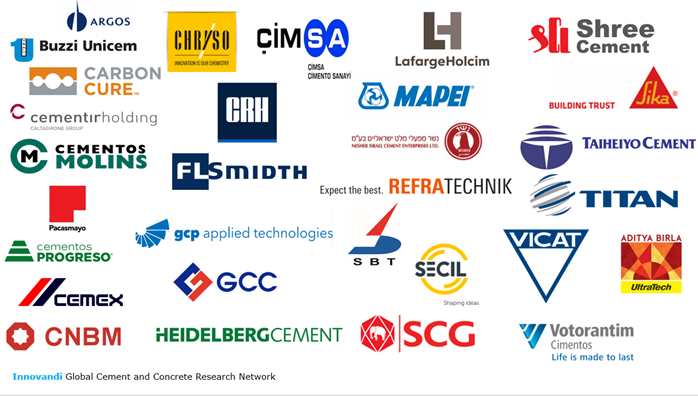 Become an Innovandi Industrial Partner
Innovandi Industrial Partnership is open to GCCA members, admixture producers, equipment and technology suppliers.
To become an Innovandi Industrial Partner please contact the Innovandi General Manager, Dr Helen Murphy helen.murphy@gccassociation.org who will guide you through the simple process of:
Being voted into network by the Innovandi Full Assembly
Signing a consortium agreement with fair and equitable terms already signed by 70 companies and institutions (details available on application).
Paying an annual fee, the structure of which makes partnership accessible to a wide variety of companies. Industrial Partner Contributions are determined by Annual Cement Capacity (if a cement producer) or via turnover in a cement or concrete related business. This makes Innovandi Partnership affordable for a range of companies big and small. Fees go directly into funding research to reduce CO2 emissions.
---