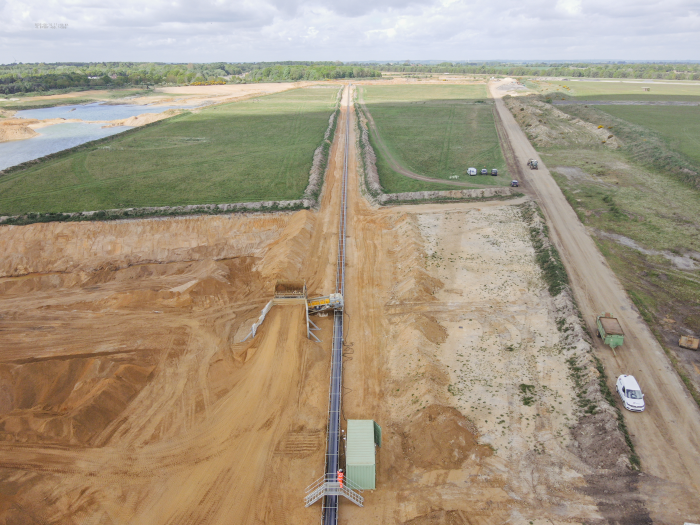 CEMEX has completed a sizable investment into a new conveyor system at its quarry in Swinderby, Lincolnshire, which will make a significant contribution to reducing CO2 emissions and fuel use at the site. This is the latest development from the global buildings materials supplier as it leads the way in sustainable operations in line with its Future in Action program.
Supplied by Canning Conveyor, Swinderby's new conveyor reaches one mile in length and will bring sand and gravel from the extraction site directly to the processing plant. Canning supplied and installed the new conveyor system, which included a 20-tonne hopper feeder, a number of field conveyors and a radial stockpiler.
As we move into the next phase of extraction this will minimize the use of diesel-powered dumpers; saving a projected 300,000 litres of fuel per year, the equivalent of taking 172 cars off the road. There will also be decreased dust and noise at the quarry.
Steve Sheller, CEMEX's Head of Business Development for West Europe Materials, commented: "Swinderby is a crucial site in our portfolio; it supports our customers in the Birmingham metro-market and wider Midlands area, and has a considerable reserve potential of more than 10 million tonnes.
"We are therefore investing heavily into the site to ensure it can meet demand for years to come, while also achieving the sustainability targets set as part of our Future in Action global strategy. By using a conveyor we can considerably cut CO2 emissions – we've calculated a ~50% reduction in CO2 per tonne of aggregate, when comparing to the anticipated consumption to work the next phase of the quarry using mobile plant, alongside further efficiency and cost savings. Taking into account forecasted production figures this is a total CO2 saving of approximately 74%."
Additionally, a new processing plant is being installed at Swinderby, which will nearly double the site's production capability. This investment is due to be completed early 2023 and together with the new conveyor system will futureproof the site and enable continued supply to the key Midlands market, while meeting increased customer demand. Further investment opportunities for the site are also being explored around renewable energy sources.
For more information about CEMEX visit www.cemex.com