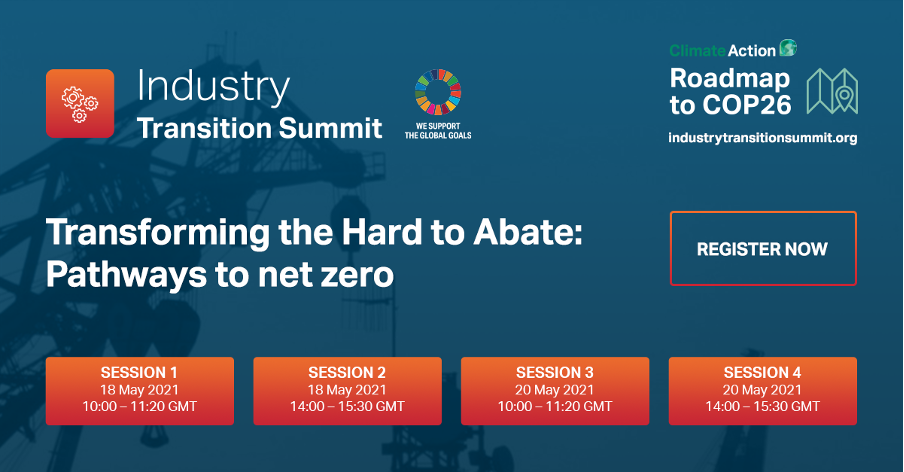 18th – 20th May 2021
We are delighted to partner with Climate Action for the Industry Transition Summit taking place on the 18 & 20 May 2021.
Industry accounts for roughly 30% of global CO2 emissions and as demand for products including steel, cement, chemicals and precious metals is set to increase, industrial actors will have to cut emissions sharply in order to achieve the 1.5-degree scenario.

The Industry Transition Summit will bring together investors, policy makers and business leaders to share key decarbonisation solutions for the hard to abate sectors and heavy industries with a view to enabling industrial decarbonisation over the next decade.
Event Aims:
Learn how governments are tackling industrial decarbonisation as a key component of National Determined Contributions ahead of COP26
Support the creation of policy frameworks that encourage investment in low carbon industrial sectors
Identify Technological solutions for industrial decarbonisation: hydrogen, heat pumps, CCUS.
Create market opportunities and proactive regulatory framework for low carbon industrial products
Key Speakers:
Patrick Child, Deputy Director-General in DG Research and Innovation (R&I), European Commission
Rasmus Valanko, Managing Director, Systems Transformation, We Mean Business
Dr Gokce Mete, Evidence Lead, Leadership Group for the Industry Transition Secretariat hosted by the Stockholm Environment Institute
Paul Huggins, Associate Director, Carbon Trust
Jekaterina Boening, Senior Policy Manager, Germany, Transport & Environment
Adam Matthews, Director Investment Team (Ethics & Engagement), Church of England Pensions Board
Faustine Delasalle, Partner & Director, Systemiq & Energy Transitions Commission
How to Register:
You can register online here. By registering through this link you will gain exclusive access to the Forum for free.