GCCA Partner Event
29 June – 1 July
Register Now: https://bit.ly/3f2TAhw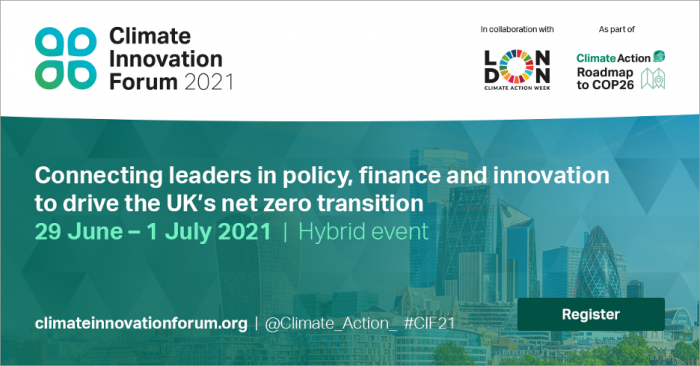 Climate Action is pleased to announce the Climate Innovation Forum 2021 returns for the third year, as a hybrid event during and in collaboration with London Climate Action Week, to build critical momentum ahead of COP26.

The 3-day agenda, taking place on the 29 June – 1 July, will focus on the UK's Ten Point Plan for a Green Industrial Revolution – exploring how to build back better, support green jobs, and accelerate our path to net zero.

Register now to connect with thousands of senior policy makers from local authorities, national UK government, investors, climate-tech solution providers, heads of sustainability from FTSE 500 companies, and NGO's in order to close the gap between ambition and action.
Attend to:
Identify key investment and business opportunities outlined by the UK's 10-Point Plan for a Green Industrial Revolution
Develop a set of key action points to advance the UK's net-zero ambitions as outlined in the 10-Point Plan
Collaborate with public, private and investment sectors ahead of COP26 to advance the green economy agenda
Collect cross sector learnings from key sectors that are critical to the UK's net zero ambition
Key Speakers:
Mark Carney, The Prime Minister's Finance Advisor for COP26
Chris Stark, CEOt, Climate Change Committee
Mark Gough, Executive Director, Capitals Coalition
Richard Roberts, Inquiry Lead, Volans
Polly Billington, Director, UK100
Nathalie Seddon, Professor of Biodiversity – Director of the Nature-based Solutions Initiative, Oxford University
Emma Howard Boyd, Chair, Environment Agency
How to Register: You can register online for free here. Contact Climate Partnerships and Content Executive Rachel Cooper directly if you have any questions on +44 (0) 207 871 0173 or email atrcooper@climateaction.org