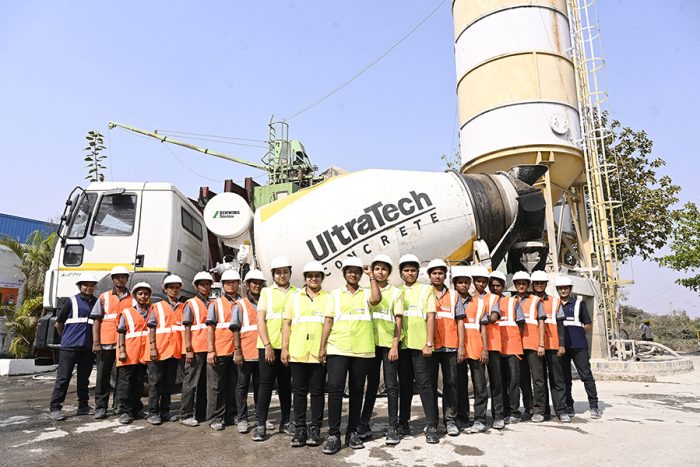 UltraTech Cement Limited, the largest manufacturer of grey cement and ready-mix concrete in India, has announced that its existing Ready-Mix Concrete (RMC) manufacturing plant near Pune will now be operated with an all-women workforce starting today, 8th March 2022. This is the first RMC unit in India to be run by an all-women team.
This first-of-its-kind 'all-women' RMC plant operated by UltraTech is located in Bhugaon village, in the outskirts of Pune, Maharashtra. The plant will be managed by a 22-member women team. The unit is led by a woman employee and already has women staff taking care of most of the operations. Starting today all operations of this RMC plant will be managed completely by women staff, including Quality Management, Electrical Operations, Batching Plant Operations as well as support roles required for the manufacturing and maintenance operations.
UltraTech commenced the operations of this RMC plant in December 2016. The journey to becoming an all-women operated RMC plant started few years ago with women employees taking on more and more diverse roles in the RMC operations of the Company, from chemists in the Quality Department to engineers in the more physically intensive departments such as Electrical and Batching Plant Operations. The operationalisation of an 'all-women RMC unit' is representative of UltraTech's efforts to build a diverse workforce and is in line with Aditya Birla Group's philosophy of nurturing an inclusive work culture.
UltraTech Concrete, UltraTech's Ready-Mix Concrete (RMC) Division, operates over 150 RMC plants across India to serve the needs of its customers. UltraTech Concrete powers the biggest infrastructure projects across the country by delivering consistent quality and service. From identifying and anticipating possible challenges, to designing and delivering the most complex concrete solutions, UltraTech Concrete's expertise enables its customers in timely project delivery and successful completion.