Cementos Pacasmayo's mission is "To build together the future we dream of". This is the basis for the creation of important initiatives such as EcoSaco in order to be a carbon neutral company by 2050, contributing to the Peru Cement Roadmap 2030 together with the Inter-American Cement Federation (FICEM) and the Peruvian Cement Producers Association (ASOCEM).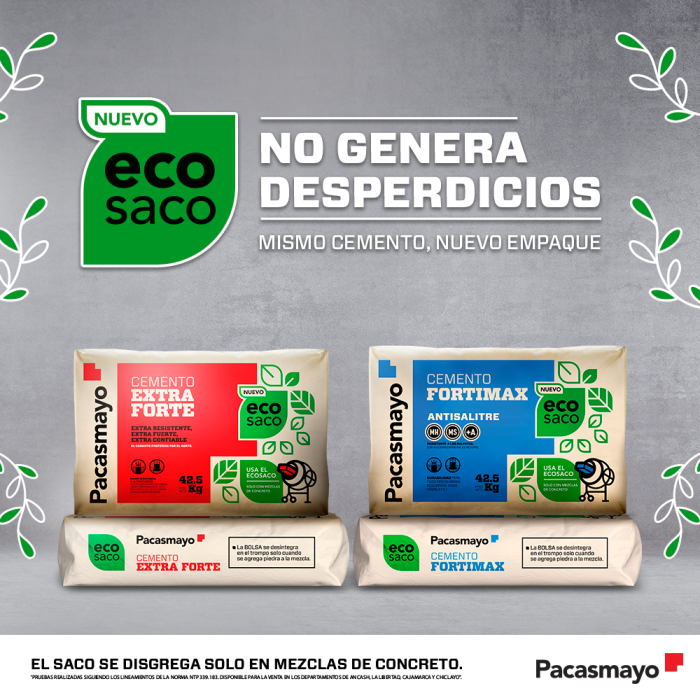 The EcoSaco is a package that the foremen or self-constructor can introduce directly into the concrete mixer without having to open it. In this way, the packaging becomes part of the concrete mix without generating waste, contributing to the environment and without affecting the quality or strength of the structures. Among the main benefits of this new packaging is the reduction of waste, making 70% of the hull of a construction site more sustainable.
In the first year of the EcoSaco, Cementos Pacasmayo will stop discarding almost 16 million bags in the market, which translates into 3,500 tons less waste in their landfills, thus reducing 14,000 tons of equivalent CO2 in the environment. In addition, it allows for greater productivity in construction and better health care for construction workers, as it reduces exposure to cement dust by preventing the bags from opening, making the work cleaner and more organised. 
The incorporation of the EcoSaco in the portfolio is part of a sustainable transformation that Cementos Pacasmayo has been promoting for several years. This is part of their commitment to care for the environment and makes them a cement company committed to sustainability in the construction industry, introducing the concept of circular economy in the sector through their packaging.