GCCA Members recognise the importance of applying circular economy principles at all stages of the lifecycle of cement and concrete. To this end we have incorporated key actions in the GCCA Charter and Guidelines, and circular economy is fundamental to the GCCA Climate Ambition Statement and the forthcoming GCCA 2050 Roadmap for net zero concrete.
In some countries circularity is already enabled through a supportive policy framework and the industry has responded with widespread implementation of initiatives. To maximise circularity globally, both in the sector and through the use of concrete, enabling policies, standards and regulations must become more widely adopted.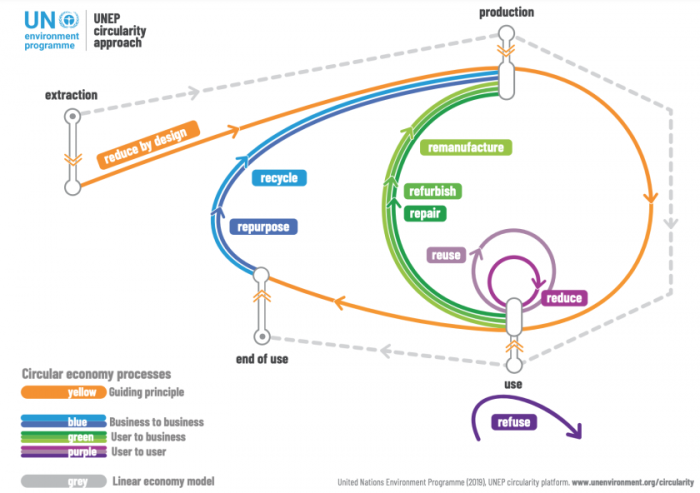 Our contribution to the circular economy
The cement and concrete sector already makes a significant contribution towards a circular economy by enabling the design of built environment assets that are long-lasting, resilient, low maintenance and can be repurposed. It also contributes through extensive use of recycled and secondary materials as raw materials and fuels in its manufacturing processes and products. Concrete is fully recyclable.
Society's need for homes, buildings and infrastructure outstrips the availability of material that can be reused from the current stock of material in the built environment. It is therefore paramount that where virgin materials are required, they are responsibly sourced, are able to be reused in a circular manner and are from stocks of materials that in themselves are plentiful, as is the case with limestone and other minerals used in cement and concrete manufacture.
GCCA Members believe that with an enabling waste and building policy regime and a collaborative approach across the construction value chain, there is significant potential to further enhance resource productivity and reduce carbon by application of whole life, circular approaches.
The GCCA and its members commit to:
Accelerate the implementation of circular principles in cement and concrete manufacturing processes and product design by further improving production efficiencies, reducing waste and using recycled and secondary materials as raw materials and fuels, as described in GCCA guidelines and further guidance, GCCA's climate ambition and forthcoming GCCA 2050 Roadmap to carbon neutral concrete.
Report GCCA Member progress on circular economy metrics,
Innovate cement and concrete products and applications to enhance circularity,
Collaborate to promote good circular practices, standards and enabling policies, and
Encourage upfront circular design in the built environment, founded on a whole life, whole supply chain approach.
For more on concrete's contribution to the circular economy, see here.